Saitama International Bonsai Academy for international visitors residing in Japan
The academy will provide you with the materials and basic skills needed to create a bonsai.
You are welcome to take the bonsai home after the workshop.
Workshop 1: Bonsai demonstration and lecture.
Workshop 2: Make your own bonsai tree.
※Please refer to the flier for deteils.
http://www.bonsai-art-museum.jp/wp-content/uploads/2019/02/da77b63761776edba45c205eff6a77ef-1.pdf

■Tuition: 7,000 yen
*couples or friends can join together for the price of one.
Only one bonsai tree will be provided.
■Venue: Omiya Bonsai Art Museum
■Date: March 24th, Sun
■Time: 13:00~14:15 (workshop 1)
14:30~16:00 (workshop 2)
■Eligibility: International Visitors
■Language: Japanese and English
■Instructors : Adam Jones
*Profile
Bonsai artist
He spent five years as an apprentice at Mansei-en bonsai garden in Omiya, Japan.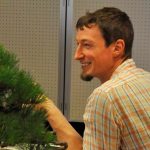 ■How to apply:
Please apply by filling out the required items and send a email.
The deadline for applications is March 20th
【Required Items】 ① Name ② Nationality ③ Address ④ Number of participants  ⑤ Contact details(Telephone number, Email address) ⑥ Language(s) spoken
■Inquiries:
2-24-3 Toro-cho, Kita Ward, Saitama City, Saitama, 331-0804
Tel: 048 -780 – 2091 FAX: 048 – 668 – 2323
Email: bonsai-art-museum@city.saitama.lg.jp