Seasonal Bonsai Exhibition, Shiki: Four Seasons
Date:April 2 - April 21, 2021
Place:Collection Gallery
In the indoor collection gallery, the display is changed every week to welcome visitors with bonsai in their prime.
The permanent exhibition for 2021 will be titled "Seasonal Bonsai Exhibition, Shiki (Four Seasons)" and will introduce the seasonal bonsai of each month, including the taste of the zashiki decoration.
April, Time of Budding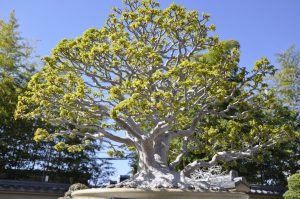 One of the highlights of this season is the sight of trees that are budding for the first time. The hard buds of winter become plump and round, and the young leaves of maple and maple trees begin to sprout with a reddish tinge. After the long, frozen winter, this is the season when the trees announce the beginning of the year, and this is the only time you can see them budding.
---