【Hands-on Experience Class for Beginners】Saitama International Bonsai Academy – Classes for International Visitors
[ What the Saitama International Bonsai Academy intends… ]
Building upon the opportunity of the 8th World Bonsai Convention in Saitama, the "Saitama International Bonsai Academy" is offering bonsai classes where students can acquire knowledge and skills regarding bonsai in a systematic manner at the Omiya Bonsai Art Museum.
[ Hands-on Experience Class for Beginners ]
Class dates:


Dec. 20th, 2019
Jan. 31th, 2020
Feb. 28th, 2020
Mar. 27th, 2020
Time:
10:00~12:00、13:30~15:30
Eligibility:


International Visitors visiting the Omiya Bonsai Art Museum
Tuition:


Hands-on Experience Class only: 3,000 Japanese yen.
If bonsai is to be taken home: 6,000 Japanese yen.

Tuition is to be paid in cash (Japanese yen) on the day of the class.
It is prohibited to take abroad the bonsai created.
Occupancy:


About 5 participants per session
Venue:


Omiya Bonsai Art Museum
Language:

 
English
Content:


A Guide to the Omiya Bonsai Art Museum (Instructor: Museum Guide Staff) – approx. 30 min.
Through commentary about the exhibits in the museum, participants will learn about the appeal of bonsai and how to appreciate it.

Hands-on Bonsai Making Experience – approx. 90 min.
Participants will experience creating a small bonsai.
Instructors: Adam Jones
*Profile
Bonsai artist
He spent five years as an apprentice at Mansei-en bonsai garden in Omiya, Japan.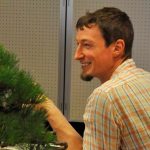 How to Apply:
Please apply by filling out the required items and send a email.
Email: bonsai-art-museum@city.saitama.lg.jp

Required Items:
① Name
② Nationality
③ Address
④ Contact details (telephone number, email address)
⑤ Language(s) spoken
Please apply no later than 1 weeks prior to the desired date of the class.
Other:
A Certification of Completion will be issued.
Cancellations must be made no later than 1 weeks in advance.
※Please refer to the flier for deteils.
Flier-Hands-on Experience Class for Beginners