Autumn Special Exhibition: Contemporary Bonsai Masters Ⅱ: Masahiko Kimura; Playing with Bonsai, the Origin of His Works
Date:Fri, October 26, 2018 to Wed, November 21, 2018
Place:Collection Gallery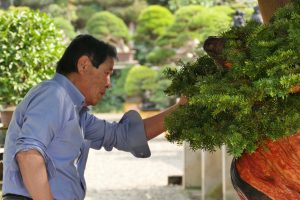 The subject of our second instalment of the Contemporary Bonsai Masters exhibition series is none other than Masahiko Kimura, world renowned bonsai master who represented all of Japan with a keynote demonstration at the 8th World Bonsai Convention in Saitama.
Kimura, a well-known devotee to bonsai who has cared for an created many masterpieces, has continuously cared for a specific masterpiece, not for financial gain, but as a bonsai master. That piece expresses the beautiful scenery of trees rooted on the precipice of China's unique rock formations.
Because Kimura is able to remove himself from bonsai art as a purely professional pursuit, he has created space for himself to "play" with the world of compositional, or sosaku*, bonsai. In this exhibition we offer bonsai representative of Kimura's work that have carved his name in to the stone of bonsai history.
This exhibition also includes exceptionally large bonsai, over 180 cm wide, that has been called the best in the world.
* Sosaku bonsai are bonsai such as root over rock and group plantings that differ from the "one pot, one plant" style that is commonly associated with bonsai.
Notice of Change of Exhibition Period, Japanese Cypress of Autumn Special Exhibion
New: Fri, Nov 2 to Wed, Nov 21 
Old: Fri, Nov 2 to Wed, Nov 7 / Fri, Nov 9 to Wed, Nov 14 
Old: Fri, Nov 2 to Wed, Nov 7 / Fri, Nov 16 to Wed, Nov 21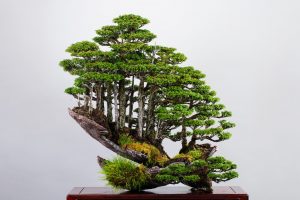 Exhibition runs: Friday, October 26th 2018 ~ Wednesday, November 21st 2018
Exhibition Part A (10/26〜10/31、11/9〜11/14)Exhibition Part B (11/2〜11/7、11/16〜11/21) with 9 pieces changing for each part.
* Closed on Thursdays
Place: Bonsai Art Museum, Saitama – Collection Gallery
Presented by Bonsai Art Museum, Saitama
In collaboratin with: Kindai Shuppan Co., Ltd.
With the support of: NHK Saitama, Saitama Shimbun Newspaper, JR East Omiya Office, TV Saitama, Nippon Bonsai Kyokai, NEXCO Kanto Office
---
Compositional Bonsai Demonstration by Masahiko Kimura
A demonstration of creating rock grown bonsai that has become synonymous with Kimura Bonsai.
Date and Time: October 28th 1:30 ~ 3:30
Place: Lobby
Seating for about 60 people, first come first serve from 1:00
---
Artist Talk with Masahiko Kimura
Mr. Kimura will discuss the bonsai on display and famous bonsai he has worked with.
Date and time: November 4th 1:30 ~ 3:00
Place: Lecture room
60 seats available, registration required
Registration will be decided by drawing. To submit for the drawing send a postcard with the following information to the Bonsai Art Museum by Monday, October 15th.
[Title: Artist Talk, Name, Address, Telephone number]
---
Special Autumn Exhibition Gallery Talk
Date and Time: November 11th, 17th from 1:00
To join, gather in the lobby by 1:00 with a ticket for the museum.
Lectures are in Japanese only.
Download: Flyer in Japanese edition , file size: 4.6 MB