Special Exhibition – Refreshing Landscape Scenery – World of Suiseki
Date:First half: July 22nd 2022 (Fri) – August 3rd 2022 (Wed)/ Second half: August 5th 2022 (Fri) – August 17th 2022
Place:Collection Gallery
Suiseki are small stones which are shaped to look like natural vistas, allowing the viewer to see a scene from the natural world. 18 of these great pieces will be displayed that show the beauty and depth of suiseki (9 each in the first and second halves).
Period: First half: July 22nd 2022 (Fri) – August 3rd 2022 (Wed)
           Second half: August 5th 2022 (Fri) – August 17th 2022 (Wed)
Hosted by: Nippon Suiseki Association and the Omiya Bonsai Art Museum, Saitama
---
Slide Talk
Date and time: July 30th 2022 (Sat) from 13:30, August 7th 2022 (Sun) from 13:30
Place: Lobby
There is no need to sign up beforehand, so please come by the lobby freely.
We will explain via a presentation about how to best observe the pieces displayed in the exhibition.
The slide talk will be recorded and be uploaded to Youtube after the event (this will be unlisted).
Please use the link below to access the recording.
■July 30th (Sat) – Talk by Morimae Seiji of the Nippon Suiseki Association
–   The introduction at the beginning of the slide talk was not recorded. We apologise for the inconvenience.
---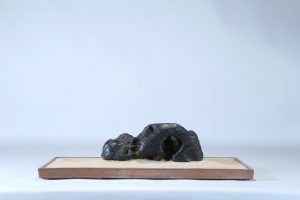 Hakkaizan Stone named Furen-do
Rectangular Hagi Ware Basin
Tsutomu Ishiuchi
The flyer for this exhibition can be downloaded here:
Special Exhibition – Refreshing Landscape Scenery – World of Suiseki Flyer