Special Exhibition – Refreshing Landscape Scenery – World of Suiseki
Date:Fri. July 21, 2023 ~ Wed. August 30, 2023
Place:Lobby, Collection Gallery
Suiseki are small stones which are shaped to look like natural vistas, allowing the viewer to see a scene from the natural world. 18 of these great pieces will be displayed that show the beauty and depth of suiseki (9 each in the first and second halves).
Event Period: First half: July 21st 2023 (Fri) – August 9th 2023 (Wed)
              Second half: August 11th 2023 (Fri) – August 30th 2023 (Wed)
---
Gallery Talk
Content: We will explain how to best observe the pieces displayed in the exhibition.
Date and time: August 6th 2023 (Sun), August 19th 2023 (Sat). Starts at 10:30am on both days.
Venue: Lobby, Collection Gallery
※The gallery talk will only be in Japanese.
※Please gather at the lobby once you have purchased an admission ticket for the day of the talk. There is no need to preregister.
---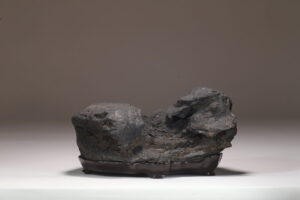 Kamogawa Stone named "Sengai"
From the collection of Ishiuchi Shitomu
The flyer for this exhibtion can be downloaded below:
Special Exhibition – Refreshing Landscape Scenery – World of Suiseki Flyer