Special Presentation "The History of Bonsai in Japan."
Date: August. 5th 2020
Place: National Bonsai and Penjing Museum
Details: A special presentation given about the history of bonsai in Japan by Omiya Bonsai Art Museum Curator Taguchi. This was given to celebrate the declaration of the sister museum agreement between the Omiya Bonsai Art Museum and The U.S. National Arboretum's National Bonsai & Penjing Museum.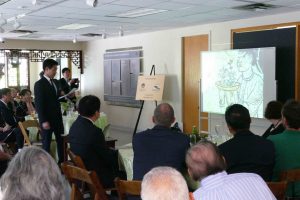 The Autumn Special Exhibition Commemorating the 10th Anniversary and Sister Museum Partnership, Bonsai, Beyond the Border, Yuji Yoshimura, a bonsai artist across the ocean; New York, 1958
Date:Sat, October 12, 2019 to Sun, November 24, 2019
Place:Special Exhibition Room
https://www.bonsai-art-museum.jp/en/exhibition/exhibition-4418/